Pinjarra Senior High School offers the following school based special programs to provide extension, enrichment and additional opportunities for our students.
School Based Special Programs
Students are invited to join the Academic Extension Program in Years 8 to 10 based on the quality of their engagement with the Pinjarra SHS learning environment. The Academic Extension Program has been introduced to offer these students the opportunity to apply their talents in a broad and comprehensive fashion, with an emphasis on project-based learning.
The program is for students who are keen to be challenged, committed to achievement, and who aspire to study at high levels in their senior years of schooling and beyond. Students who are identified as potential candidates for this program will have demonstrated their ability through state and national testing and other school achievements, as well as their approach to learning. Students may be transferred into or out of this program according to how effectively they respond to the expectations and opportunities available through the program during any semester.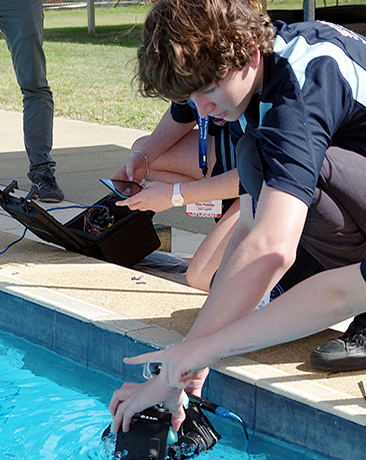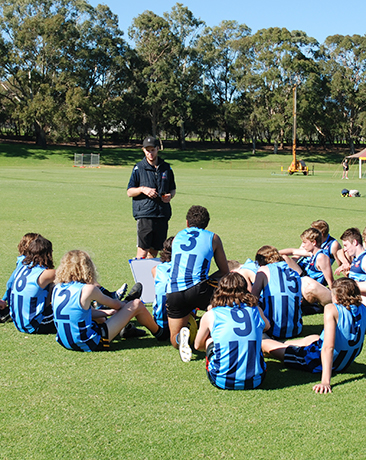 The Pinjarra Football Academy has been in operation at Pinjarra Senior High School since 2008. The programme seeks to engage and motivate the young men of the Murray Shire in school through their interest in AFL football. The goal of the programme is to develop our boys, during their middle school years, into self-motivated, disciplined individuals that develop into leaders within the school, local community and on the football field.
The PFA is delivered over a course of 3 years. From Year 8 through to Year 10, students remain together as a group during Mathematics, English, Humanities and Social Sciences, English and Specialist Football delivered through the Health and Physical Education department. The programme is supported by significant community partnerships with Pinjarra Football Club, Peel Thunder and Fremantle Football Club.
The selection process for a position in the PFA begins at the end of Term 3 at our annual PFA Draft Day. Students undertake athletic testing and questionnaires to determine their suitability to the PFA.
Some of the Events and opportunities available to PFA students include:
Interschool football matches to develop Specialist Football skills
Leadership training within the PFA programme
Annual PFA camp for Year 8/9 Students to Busselton
Annual PFA Sporting and Cultural Tour of Melbourne for PFA Year 10 students
Engaging, adjusted curriculum to incorporate football as the context for learning in academic subjects
A position in the PFA is subject to a compulsory fee over and above regular school fees
The Pinjarra Music Program offers students from Years 7 to 12 a range of opportunities. Students in Lower School (Year 7 to 9) continue their lessons with their instrumental teachers and round-out their musical training within the Classroom Music Program (studying how to analyse and understand music, read and write both traditional notation and tablature, and use musical software to generate, record and produce music). Students in Year 10 further these skills in preparation for their study of a Certificate II in Music in Years 11 & 12. This equips students for a career in the Music Industry or further study at TAFE (higher Certificates and Diploma), or University (e.g. Murdoch's Bachelor of Arts, majoring in Sound, Radio, Gaming etc.)
Music students in the Instrumental Program will be required to join one of our bands or ensembles where attendance at weekly rehearsals are expected. Other exciting opportunities for music students include music tours, camps, incursions (e.g. song writing) and excursions (e.g. recording studio), school assembly performances (and experience with sound gear), community concerts and festival performances.
NB: Our focus in the Music Department is not just on Music as an "end" (i.e. making musicians of young people), although quite a few of our ex-students now hold creditable jobs in the Music Industry as Performers, Sound Engineers, Event Coordinators, CCO's etc. We also use music as a "means to and end", in developing students into mentally and emotionally healthy, community-minded citizens. For example, the ethos presented with performing for others in the community isn't about "showing off', but 'sharing' with others… a giving to society. Music is also a way of fostering mental and emotional rigour in students, equipping them with success and strategies to cope with the stress of living in our modern society.