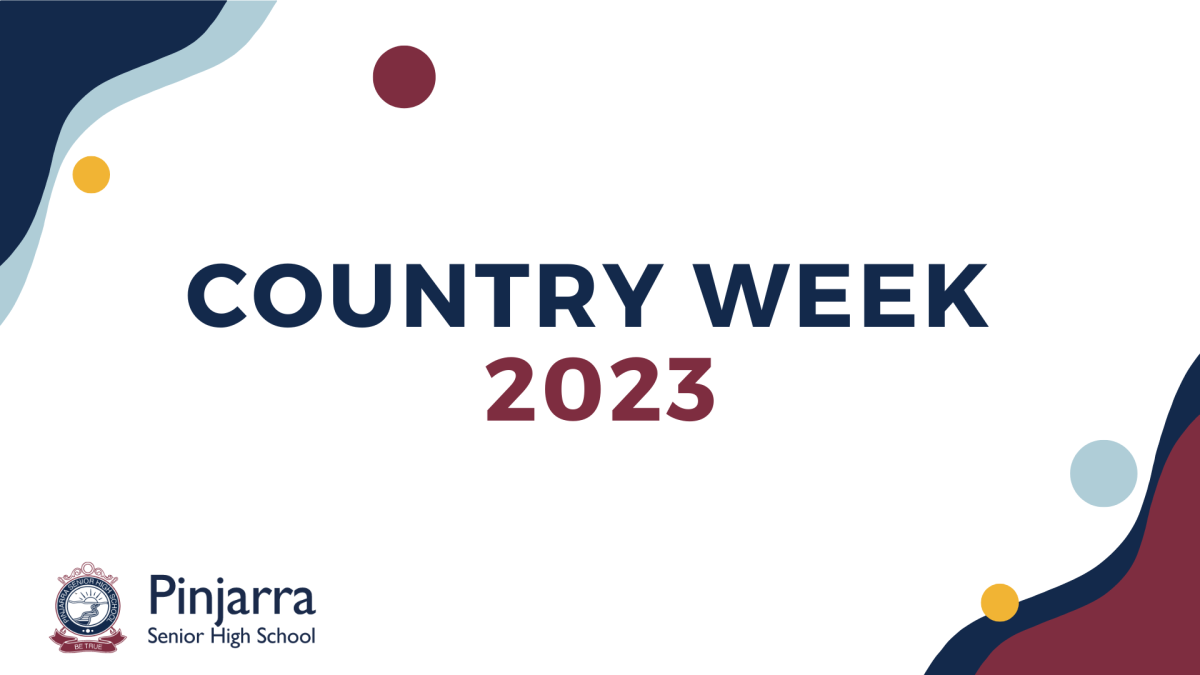 Country Week 2023
Country Week is a weeklong competition involving Senior High Schools from all over the state. This year, there was 3620 students, 445 staff from 51 schools. Students compete in AFL, Basketball, Dance, Hockey, Indoor Cricket, Netball, Soccer, Speech and Debating, Touch Rugby and Volleyball.
This year we had 87 Students attend Country Week, representing AFL, Basketball, Netball and Volleyball. I would like to congratulate these students on earning a position this year's Country Week squad. You should be proud to be representing your school at such a prestigious event.
The performance of our Country Week team is very important in fostering a sense of pride among community members. Many of the people who take a close interest in your performance have also represented the school at Country Week championships in years gone by.
Country Week provides students with a unique opportunity to immerse themselves in not only sporting events but the social and cultural experiences the week has to offer. Country Week is often looked back on by students as one of their fondest memories from School.
We would like to acknowledge and thank the coaches;
Coaching Netball, Miss Van Lit and Miss McPherson.
Coaching AFL, Mr Cooper, Mr Beswick, Mr Westcott  and Kara Harrison.
Coaching Volleyball, Miss Thomas and Miss Sullivan.
Coaching Basketball, Mr Main.
These coaches have given up a huge amount of time over the past term running training, fielding questions, chasing up notes and payment, and who gave up time away from their families in order to make Country Week a reality. Country Week is an amazing week for the coaches, we get to see students trying their hardest, representing the school with pride, and having an amazing time.
The girls AFL Team competed in the B Division this year. They were undefeated all week, but unfortunately ran out of steam in the Grand Final and were defeated by Bunbury SHS.
Results from the week;
PSHS 46 vs 3 WACOA Narrogin
PSHS 14 vs 1 Karratha SHS
PSHS 23 vs 11 Newton Moore SHS
PSHS 21 vs 6 North Albany SHS
PSHS 54 vs 7 WACOA Narrogin
Grand Final: PSHS 8 vs 33 North Albany SHS
Player's Player: Kahnea Wairau
MVP: Jordan King
Boys AFL
Our AFL Boys competed in the A Division this year which is a huge achievement on its own. They won 3 out of 5 games which got them into the Grand Final. Unfortunately they didn't get the result they were looking for, however put up a great fight during the GF.
Results from the week;
PSHS 39 vs 8 Albany SHS
PSHS 21 vs 47 Australind SHS
PSHS 41 vs 28 Bunbury SHS
PSHS 71 vs 14 WACOA Narrogin
PSHS 23 vs 48 Bunbury CC
Grand Final: PSHS 35 vs 51 Bunbury SHS
Player's Player: CJ Simpson
MVP: Bailey Jokic
Netball
Our Girls C Division Team
Results from the week;
PSHS 23 vs 36 Northam SHS
PSHS 37 vs 39 Geraldton HS
PSHS 29 vs 38 Broome SHS
PSHS 40 vs 27 WACOA Cunderdin
PSHS 29 vs 30 Kearnan College
PSHS 18 vs 34 Narrogin SHS
PSHS 37 vs 70 Eastern Goldfields
PSHS 21 vs 35 Kearnan College
Player's Player: Rylee McShane
MVP: Sofie Ward
Our Girls G Division Team
Results from the week;
PSHS 13 vs 40 Merredin College
PSHS 22 vs 12 Mount Barker CC
PSHS 14 vs 18 Northam SHS
PSHS 5 vs 33 WACOA Denmark
PSHS 3 vs 36 Busselton SHS
PSHS 6 vs 37 Narrogin SHS
PSHS 5 vs 53 St Luke's College
PSHS 21 vs 22 Northam SHS
Player's Player: Gina Leveridge
MVP: Isabella Menna
Girls Volleyball
Our Girls E Division Team had a great week, coming away with a win on the last day Country Week which was a great note to finish on!
Results from the week;
PSHS 1 vs 2 WACOA Denmark
PSHS 0 vs 3 Central Midlands SHS
PSHS 0 vs 3 Harvey SHS
PSHS 1 vs 2 Grace Christian
PSHS 0 vs 3 Bunbury CGS
PSHS 0 vs 3 Denmark SHS
PSHS 0 vs 3 Mount Barker CC
PSHS 3 vs 0 Grace Christian
Player's Player: Ashleigh King
MVP: Kaylan Peters
Boys Volleyball
Our Boys E Division Team also had a great week, finishing up with a win under their belt on the last day!
Results from the week;
PSHS 0 vs 3 WACOA Cunderdin
PSHS 1 vs 2 WACOA Denmark
PSHS 0 vs 3 Grace Christian
PSHS 0 vs 3 Narrogin SHS
PSHS 1 vs 2 Esperance ACS
PSHS 0 vs 3 Central Midlands SHS
PSHS 1 vs 2 Denmark SHS
PSHS 2 vs 0 Grace Christian
Player's Player: Brody Annandale
MVP: Ethan Reid
Basketball
Our Boys Basketball team competed in D Division.
Results from the week;
PSHS 36 vs 69 Eaton CC
PSHS 25 vs 31 JTC
PSHS 35 vs 35 WACOA Cunderdin
PSHS 43 vs 41 Bethel Christian
PSHS 17 vs 44 WACOA Harvey
PSHS 20 vs 48 Eastern Goldfields
PSHS 22 vs 50 Harvey SHS
PSHS 15 vs 30 WACOA Cunderdin
Player's Player: Judd Milward
Coach's Award: Chayce Purser
Translate This Page
Past Articles