December 2021 Newsletter
Important Dates
| Date | Event Name |
| --- | --- |
| 16 December | Last Day of Term 4, 2021 |
| 31 January | First Day of Term 1, 2022 |
Principal's Report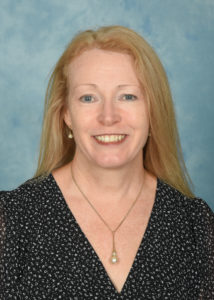 It's official – the end of the year is in sight. Christmas is right around the corner, the hot weather has arrived and the 'nearly holidays' vibe is in the air! Our school community has been incredibly busy in the latter stages of the school year, and there is certainly plenty to reflect on and to celebrate in the work that has been done. Consequently, this newsletter is something of a 'mega edition', where we are proud to share the many fantastic achievements of our students and our school during term three and four.
Our Health and Physical Education team have been kept on their toes by the many sporting activities on the calendar since the last newsletter. These include interschool Winter Carnivals for year 7/8 students in Basketball, Netball, Soccer and Touch, interschool AFL and Netball matches against Emmanuel College and Warwick Senior High School, a Year 11 and 12 Outdoor Education camp, the Year 9 and 10 PFA camp to Busselton and the year 7 – 10 Athletics Carnival. The PFA Draft Day saw high levels of athletic skill and competitive spirit from students seeking to enter this specialist program in 2022. The PFA has also run their annual Triathlon and been a host program for the Primary Aspirant Program in term three, which was a highlight for both our students and the Year 5 and 6 participants. The PFA Awards Night will round out the year for this specialist program. Parents and carers of students involved are encouraged to come along and share in this celebration.
Away from the sporting fields, Year 10 Health students planned and hosted a fantastic Health Expo under the guidance of Mr Patroni and Ms Ashfold-Hutton, with exhibitions and interactive activity booths engaging visitors in a wide range of important health topics. All of our younger students visited the Expo, along with many teachers, with everyone agreeing it was a great success. Later this week, the Health and Physical Education staff will partner with the Rotary Club of Pinjarra to present a Road Awareness program to Year 10 students to promote road safety as this group heads towards their 'L' plates. Waroona District High School students who are joining Pinjarra Senior High School will also participate in this event and we look forward to welcoming them to our school.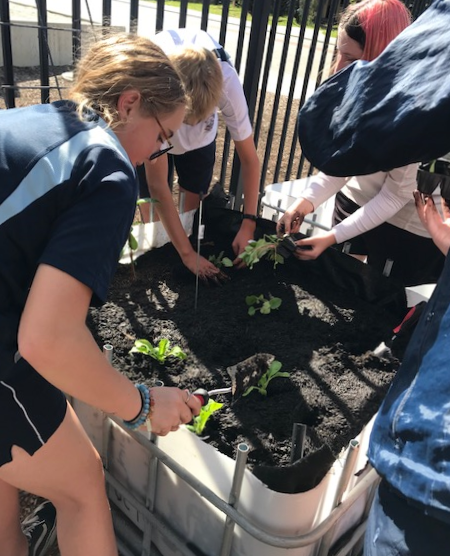 Another group of students who have been extremely busy are the AEP (Academic Extension Program). Year 8 AEP students have made amazing progress with their Containers for Change project, raising money to improve our capacity as a school to be 'waste wise', with special bins being installed to ensure a school-wide focus on recycling and environmental sustainability. The Year 9 class have continued to contribute to the school STEM garden, working on 'soil science' to ensure productive crops, which complements the Year 10 class focus on permaculture gardening and food security. Along with the significant work that each AEP class has undertaken in their respective STEM projects, students have participated in several excursions and activities to enrich their learning. Both the Year 8 and 9 AEP classes has attended UWA for the annual 'Race Around Campus' as part of the UWA Aspire Program, where students had a chance to explore the beautiful surrounds of UWA  while discovering lots about university life and the opportunities that can be accessed through university study. These students further extended their 'community classroom' with an AEP camp in Fremantle, where students visited the Perth Zoo, Scitech and even did a night tour of Fremantle Prison. The AEP student activities are frequently shared on the P & C's "Peek into Pinny' posts on our school facebook page. I would commend this to you as an excellent way to follow some of their fantastic work in our school and community. Special thanks to Mrs Durup and Mr Garnaut for their coordination of this valuable pathway for our students, and to Mrs Tregonning, Mr Crock and Ms Brown for their efforts to provide learning opportunities that extend beyond the classroom.
The end of term three was a special time for our Year 12 students, who stepped out in grand style to celebrate the completion of their final year at Pinjarra Senior High School at the 'Winter Fairytale' Ball. This spectacular event was once again hosted at the Bouvard Surf Club, which on the evening was transformed with wall to wall decorations to set the Winter Fairytale scene. The ball was organised by a student led committee ably and generously supported by Mrs Sharon Gangell and Mrs Lynda Kirkham, who put in countless hours making decorations and preparing the venue for the event. As always, a small army of staff volunteers also pitched in transport equipment, set up, pack up and make the night a success.
The students were barely recognisable as they 'glammed up' in their formal finery and danced the night away. Even Summer, our school dog, made an appearance in a lovely pink ball gown and tiara, which made her very popular in the photo booth. She even polled some votes for the Belle of the Ball! It is fair to say everyone had a fabulous time and the evening was a fitting celebration for a special bunch of young people. I am sure that the Winter Fairytale Ball will be fondly remembered by the class of 2021 for many years to come.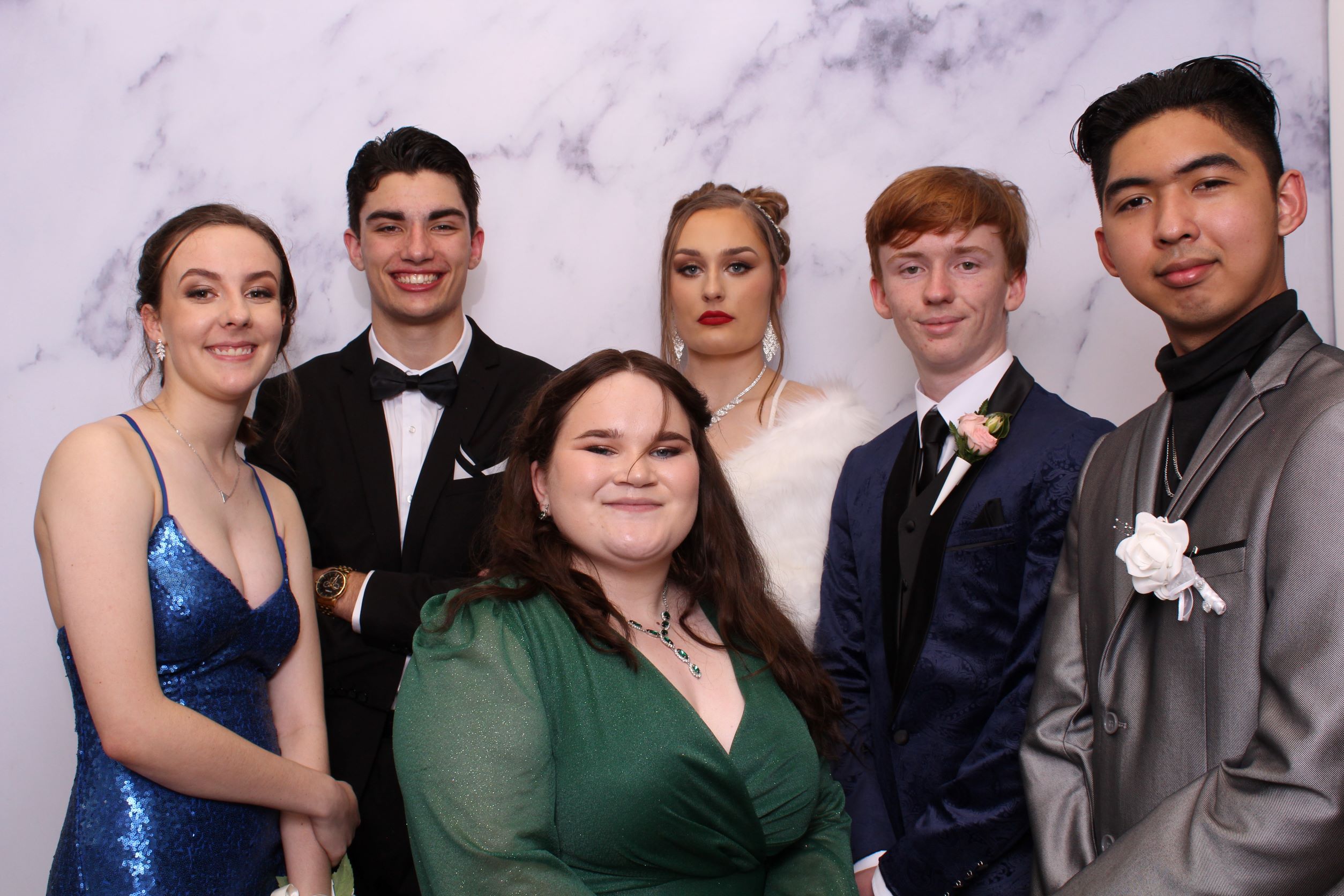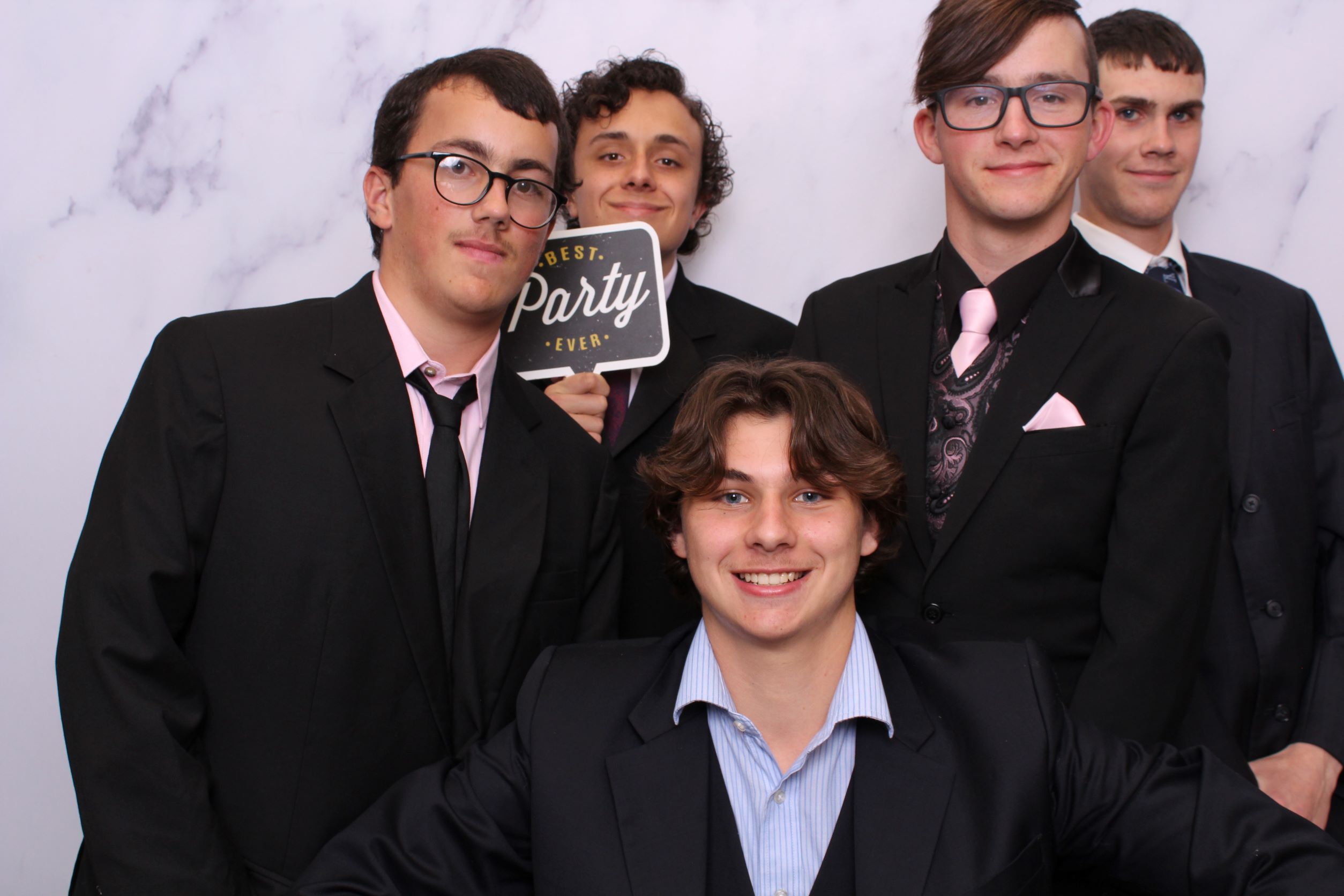 As a school we continued the celebration of our Year 12 achievements at the beginning of term four, hosting a 'Breaky and Boast', a final Farewell assembly and the Year 12 Presentation and Awards Ceremony.  In each of these events, it was heartening and humbling to listen to our students reflect positively on their time at Pinjarra Senior High School. In particular, their appreciation of their teachers and the support provided by the school and their peers during times of challenge, sadness and personal struggle made it clear that they deeply value being a part of the school community. We have been privileged to have these young people as our graduating class in this very special centenary year, and we wish them well in their future endeavours.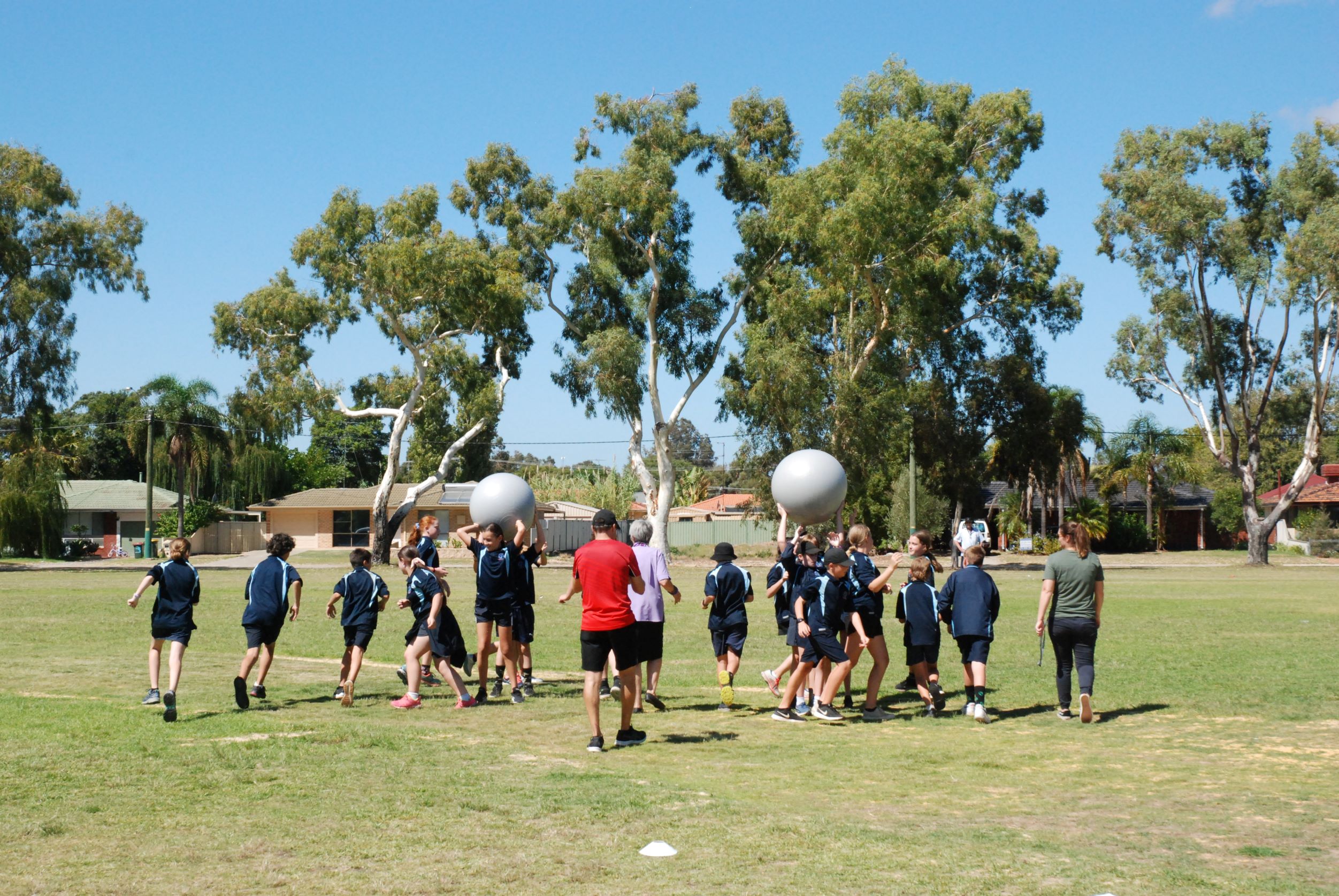 While term four has seen us farewell our most senior students, it has also been a busy time in meeting and welcoming those who will become our most junior students in 2022 – our incoming year 7s. The Transition Team, comprising Associate Principals, Student Services staff, students and Summer (the school dog), have spent time visiting our local Primary Schools to speak to students about what to expect in coming to Pinjarra Senior High School. These visits have been followed by all prospective year 7s attending orientation events on site, where they have met teachers, tried different class activities and hopefully found their way around the school. We have also welcomed their parents to our school at the Year 7 Parent Information Evening, where different information about school structures and supports for students and families were further explained. We are looking forward to all of these students and families joining our school community in 2022.
As the term draws to a close, I would like to take this opportunity to thank our students, parents and carers, along with our incredibly dedicated staff for your collective commitment to Pinjarra Senior High School. Our centenary celebration and particularly the Open Day in June were long anticipated events, which after years of planning by a wonderful group of volunteers, did not disappoint. The community and alumni really turned up to show their love of the school and the value of its place in the history of the town. I am very grateful for the support and unity that has characterised the 2021 commemoration of the school in all of its guises over the one hundred years on this site. While the challenges of COVID 19 have continued this year with lockdowns, restrictions, facemasks, distancing and now vaccinations becoming issues to navigate, we are strong and undaunted as we continue to work hard to ensure quality education for our students and community. One hundred years and still going from strength to strength as we adapt and thrive.  It is a privilege to lead Pinjarra Senior High School and I am very excited to see our growth in 2022 with the progress of the new Sports Hall and Performing Arts Centre promising a new chapter in our history.  To you all, have a safe and happy festive season and relaxing holiday break.
Jan Stone
Principal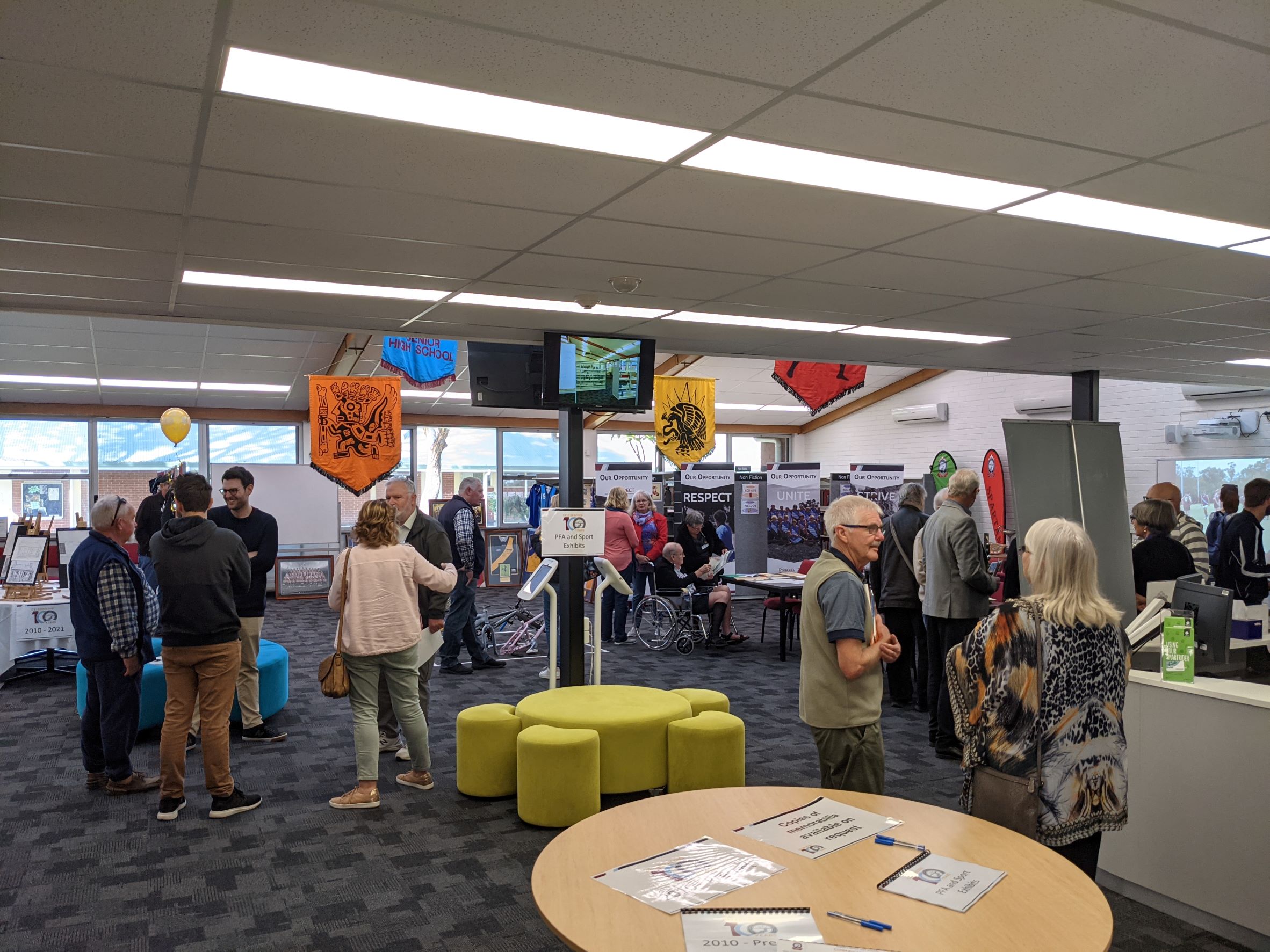 AEP Draft Day
On 27th November, 55 aspirant Year 7s participated in the AEP Draft day to determine the composition of the Year 8 Academic Extension class for 2022. Overseen by Mrs Durup and Mr Garnaut, the students were put through their paces with an initial briefing about the AEP and then fully immersed in a range of activities which were designed to test their team building, collaborative and creative skills. This year the activities were created by the Year 10AEP students, who were tasked with setting up and co-hosting the event. At the end of a very exhausting morning, the students were treated to a Dominos lunch as a reward for their hard work and participation. I would like to thank Mrs Trenorden and Ms Gopalan for their tremendous efforts on the day and the Year 10 and 8 students who assisted. The Year 8AEP class for 2022 has now been finalised and the students have been notified of their acceptance into the programme. Congratulations to all the students who participated in the AEP Draft day.
Linda Durup, AEP Coordinator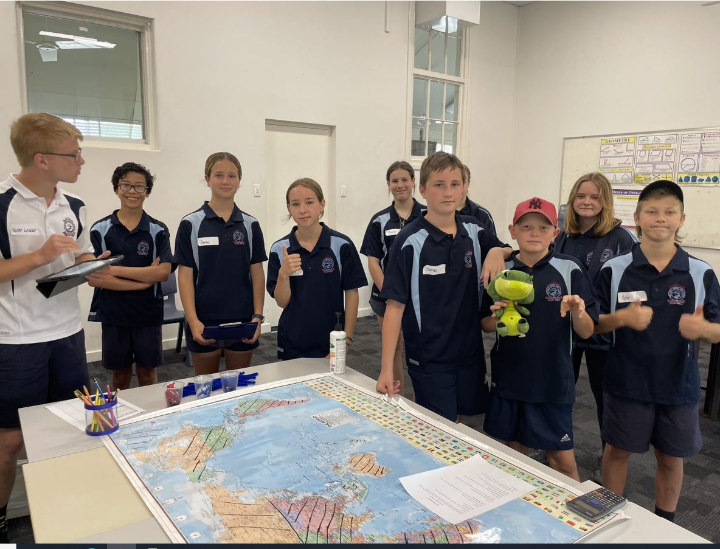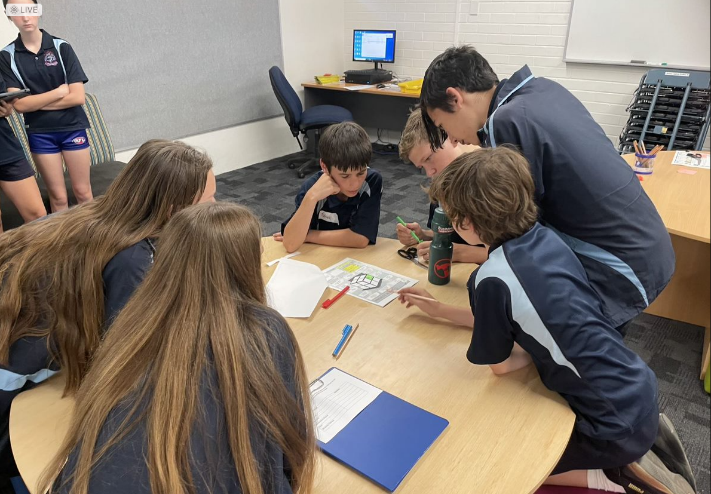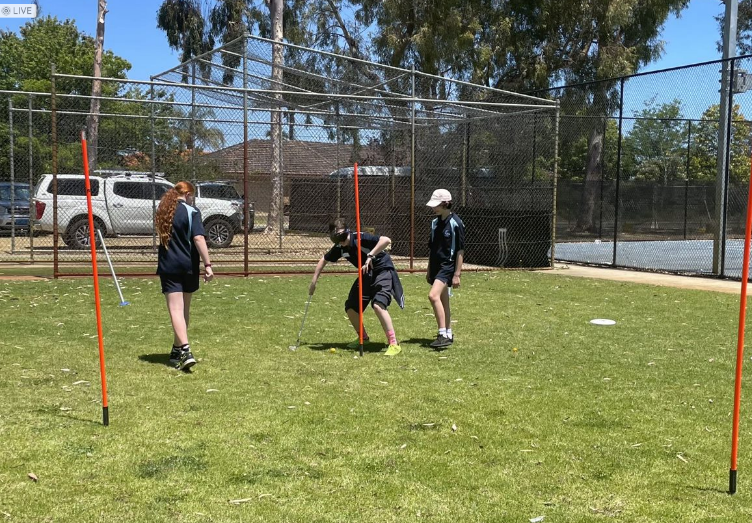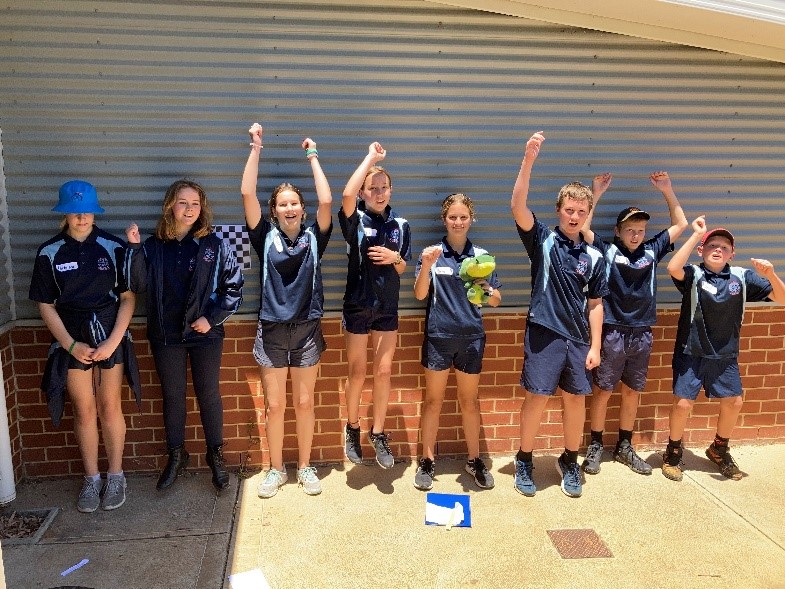 Turning of the Sod
On the 4th November, we welcomed the Minister for Education, the Honourable Sue Ellery and Mrs Robyn Clarke, MLA to our school to officially 'turn the sod', signifying the commencement work on our new Sports Hall and Performing Arts Centre. The ladies were ably assisted by Principal Jan Stone, School Captain Cole Agnew and Vice Captains Bindi Jordan, Heather Scott and Willow Palmer and of course, Summer our school dog. Mrs Sharon Gangell and Mrs Lisa Nairn from the Pinjarra Senior High School P & C were special guests at the event, which saw the launch of the long- awaited building program. These new facilities will enable Pinjarra Senior High School students to access a full- sized gymnasium and 209 seat state-of-the-art Performing Arts centre on the school site. Ms Ellery was very impressed with the plans and was especially pleased to be presented with a pink shovel to use for the ceremonial dig, which she was gifted as a memento of the occasion. She paid tribute to Mrs Clarke for her tireless efforts to secure the project for the school. Both of our VIP guests took the opportunity for selfies with Summer, who thoroughly enjoyed being the centre of attention on the day. Thanks to Associate Principal Ms Davidson for supporting Summer and our student leaders to participate in this special milestone event.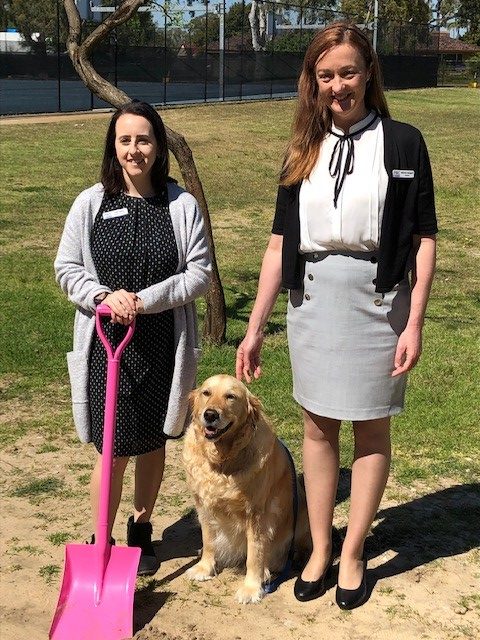 Year 11 & 12 Outdoor Camp
The Year 11 and 12 Outdoor classes recently attended a 3-day camp to Margaret River. The camp provides an opportunity for students to apply their practical skills and knowledge in the outdoor environment. The first day saw the group tackle a 12km section of the Cape to Cape Track, from the scenic Willyabrup Cliffs into Gracetown. As we started the trek the rain started to set in and didn't let up until the next day. The walk provided some great views across the ocean as we walked through the coastal scrub.
With poor weather upon us, the planned paddling session for the following day was cancelled. Instead, the students completed a ride along the Wadandi Track from Margaret River to Cowaramup and back. There was plenty of water, mud and rain to negotiate. The afternoon and the following morning provided a chance for students to tackle some of the Mountain Bike Trails as part of the Wooditjup Trail network. The series of hill climbs and down hill sections saw many thrills and even a couple of minor spills.
At night, students catered for themselves and enjoyed each other's company around the fire, playing card games, talking and reflecting upon the time spent at camp and what may lay ahead as our Year 12 students near the end of their formal schooling.
Thank you to Mr Westcott, Miss Howe and Clay Philpott for taking time away to support the students' camp experience.
-Mr Galloway
9 AEP Tours and Worm Farm Planning
Alcoa Refinery tour of refinery and worm farm (Tuesday 10 August)
On Tuesday we went on a bus to the Alcoa Refinery worm farm. At the worm farm we were taught that worms are very good for the environment and help neutralize the soil. (Brock) Kelly showed us how they manage their food and hand towel waste using compost and worm farms. (Maddi H.) We also learnt how much to feed and water the worms. (Xavier) Their worms eat 100 kg a month in winter and 400 kg a month in summer. (Amelia D.)
Then we drove around the Refinery and learnt facts and how it is operated, (Sophie).  Raelene and Moira knew a lot about how they make alumina from bauxite using caustic soda (Bethany). Whilst driving around, it looked really cool and I want to work there. (Charli)
Pinjarra Community Gardens tour & worm farm planning – Thursday 12 August 2021
On Thursday we walked to the Pinjarra Community Garden. We got shown the worm farm. Peter told us how they worked and what we get if we set them up right. My group began to come up with worm farm ideas. We have narrowed it down to either an esky, a fridge or a polystyrene box. (Oscar) Peter showed us showed us three different worm farms, including a bathtub, and explained what did and didn't work. (Skyla) We are taking the information we learnt from both excursions back here so we can build our own worm farms in the STEM garden at school. (Bella) We ate lemons, mandarins and chillies. (Kayla) All the rain caused the little bridge next to the Murray River to flood with water. I walked off the track on the way back to school and lost my shoe knee deep in the mud and my friends had to help me dig it out. (Madison)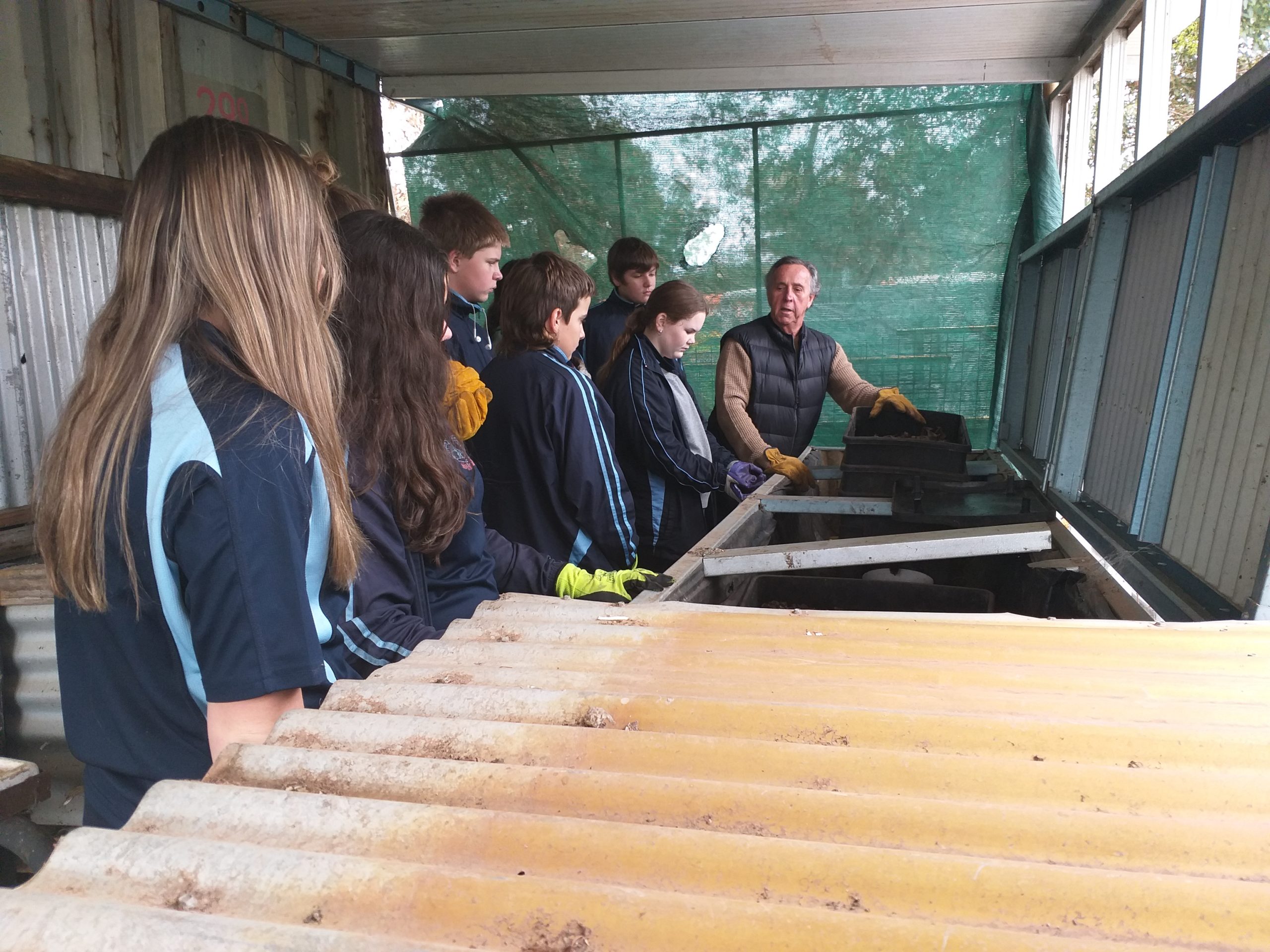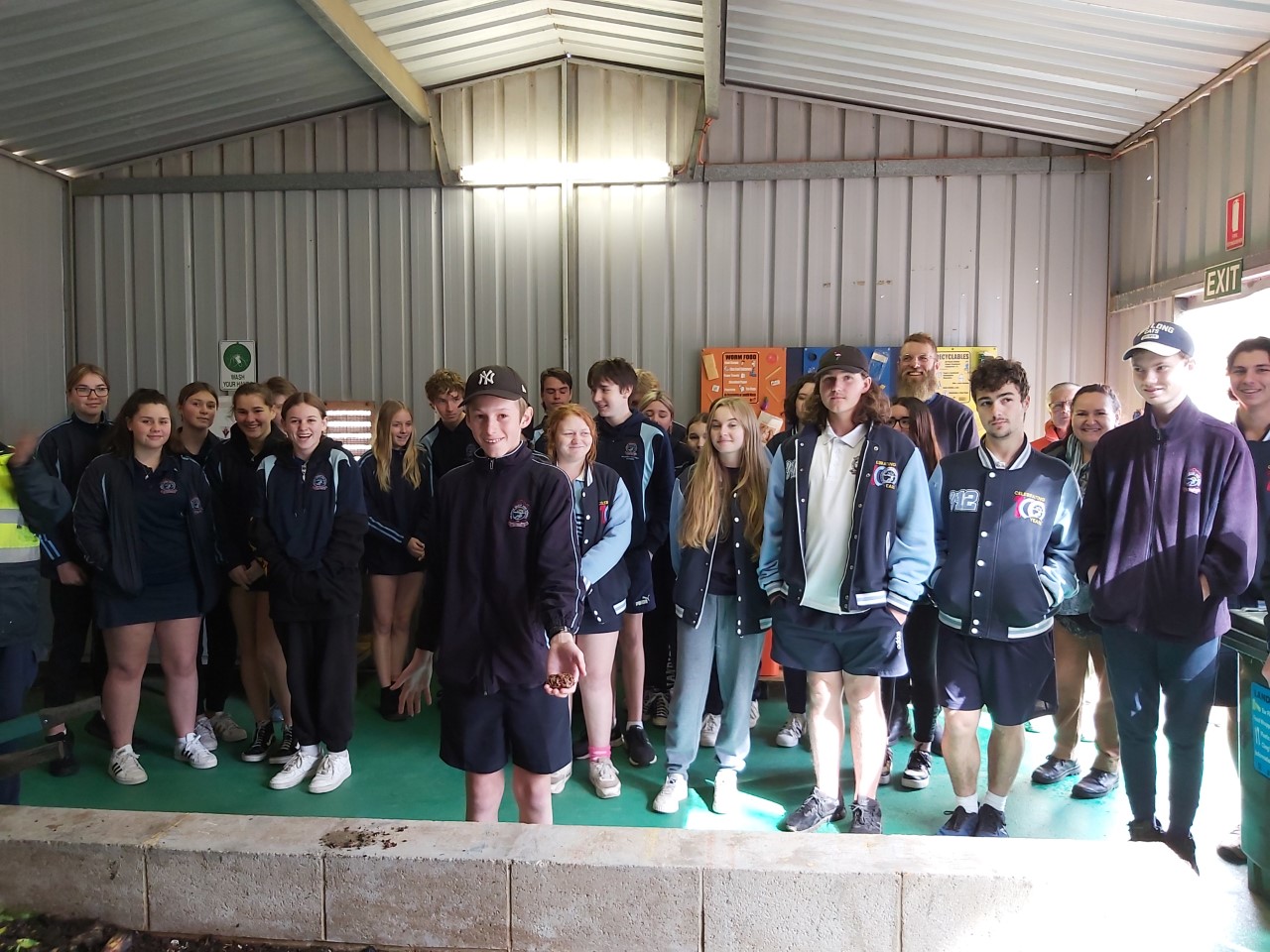 Career Development Activities
CME Inspiring Girls Carer Forum, RAC Arena
Ten Year 10 students through their involvement in the Alcoa Prospects Program had the opportunity to attend the Chamber of Minerals and Energy of WA (CME) Inspiring Girls Careers Forum. The two groups of girls were with Alcoa and Iluka Resources. The Forum is a unique careers event designed to showcase the resources industry to female secondary students and to inspire them to follow in the footsteps of women who have achieved great personal and career success in the resources sector. Students heard from inspiring, female, industry guest speakers; participated in a fun, hands-on resources related activity; took part in a 'speed careering' session and interacted with industry representatives. The keynote address was made by Stephanie Graskoski, Mining Engineer (Finalist, 2021 Outstanding Young Woman in Resources Award). She told the audience to have the courage to do difficult things and that you can change the world for the better! The students that attended are better able to understand the diverse university and VET career pathways available to them in the resources sector, are inspired to pursue different courses and new career options and build connections and networks with potential future mentors and employers. The girls asked relevant and thoughtful questions at the organisation displays and worked well as a team in the hands on activities.
 Chevron Powering Careers in Energy LNG Exploration Day, RAC Arena  
The Powering Careers in Energy, Chevron LNG Exploration Day encompasses information from the four units of study and compliments the school based endorsed program. It is a multi-school event and allows students the chance to work with others, in teams, to complete challenges and learning experiences based on the Oil and Gas Industry. A series of short presentations and hands on activities occur throughout the day including Mock Interviews. The day promotes an awareness of broader career opportunities in the WA LNG sector. LNG Day gives the students the opportunity to network with and ask questions of company representatives, industry experts and LNG sector personnel. A truly busy day. This year's keynote address was an ex-Pinjarra SHS student, Riley Anderson who was an inaugural PCiE class member. The students attending – Taya Bashford (Towns) Breanna Collard (Scarp) Oliver O'Meara (Towns), Heather-Jane Scott (Towns) and Mitchell Smith (River) were immersed in a whole range of interesting activities throughout the day.
13th Annual WIMWA (Women in Mining and Resources WA) Summit, Perth Convention Centre
Chenae Bridger (Forest), Brooke Draper (Scarp), Brooke Hall (Towns), Isabella Menna (Earth), Makayla Ruocco (Scarp), Zoe Scott (Forest) and Piper Westlake (Earth) were selected, through an application process, as part of the Alcoa Year 10 Prospect Program to attend the Annual WIMWA Summit at the Perth convention Centre along with 1200 attendees in the room and others online. Ms Robyn Collard, Noongar Elder, presented Welcome to Country. Among a huge array of speakers, some notable presenters were Grit, Growth and Privilege – Pooja Haria (Reliability Engineer); Challenges and Challengers – Laura Allen (WIRA Outstanding Tradesperson); Unarm. Unlick. Undefine – Justine Baldoni (Actor, Author) and Leadership: "We are all in a position to influence the way people feel, leave a legacy of generosity and kindness"- Michelle Cowan (Head of AFLW at West Coast Eagles). Michelle recalled a 42 second moment in her life that offered her unconditional support and challenged everyone in the room to spend 42 seconds being generous, seeking out and celebrating achievements of others, giving credit showing gratitude and being kind – the students and I challenge you to do the same!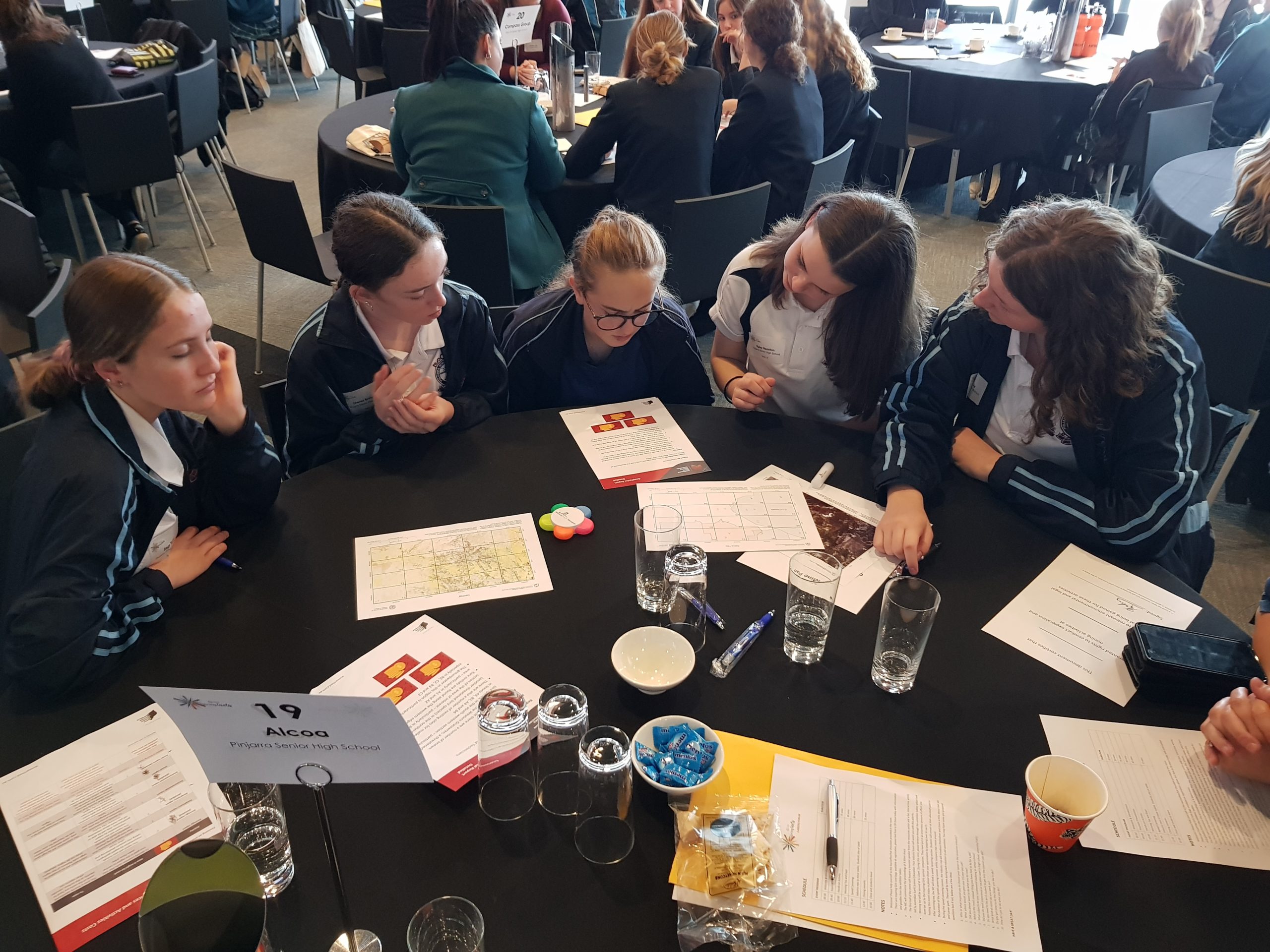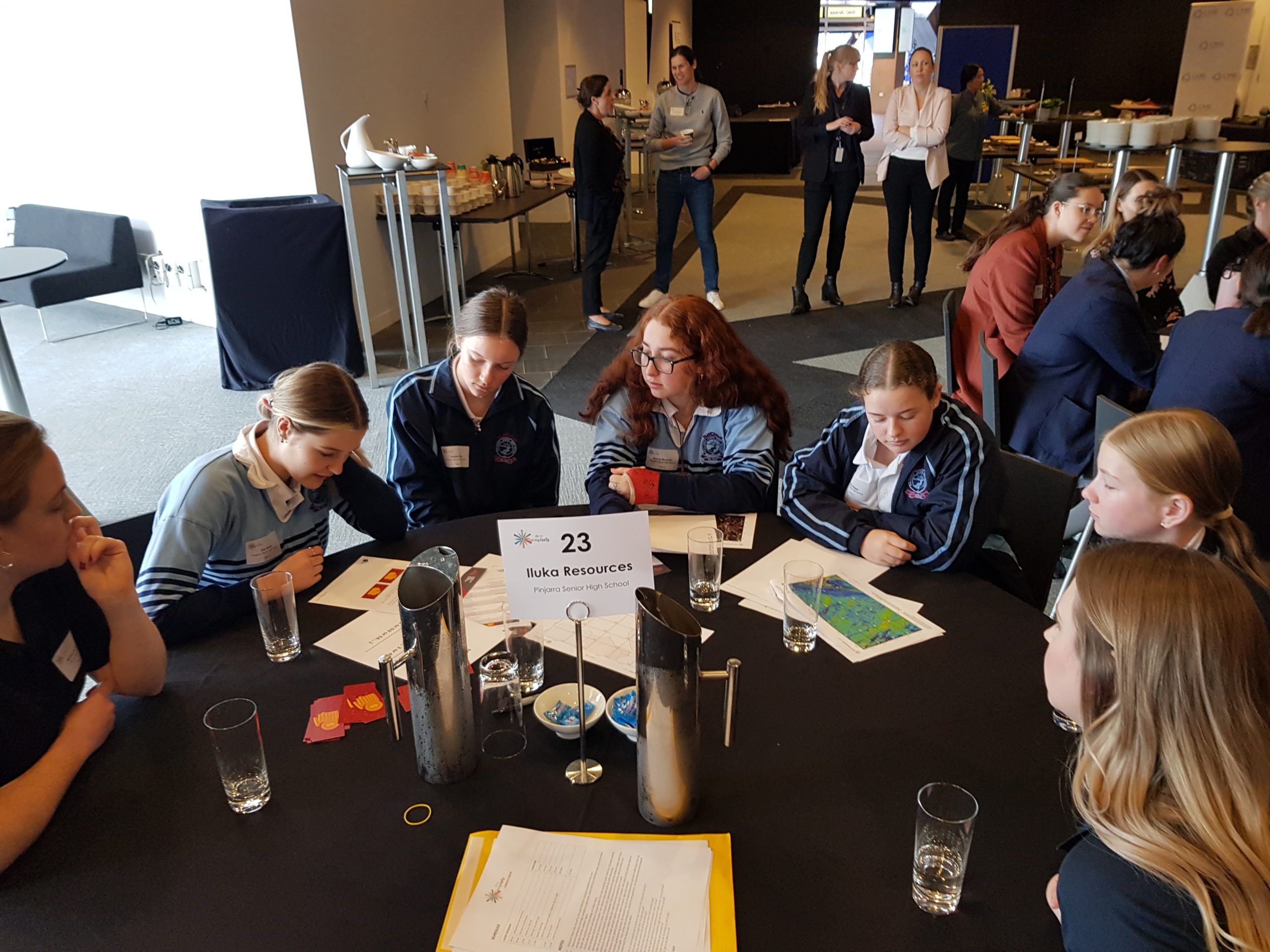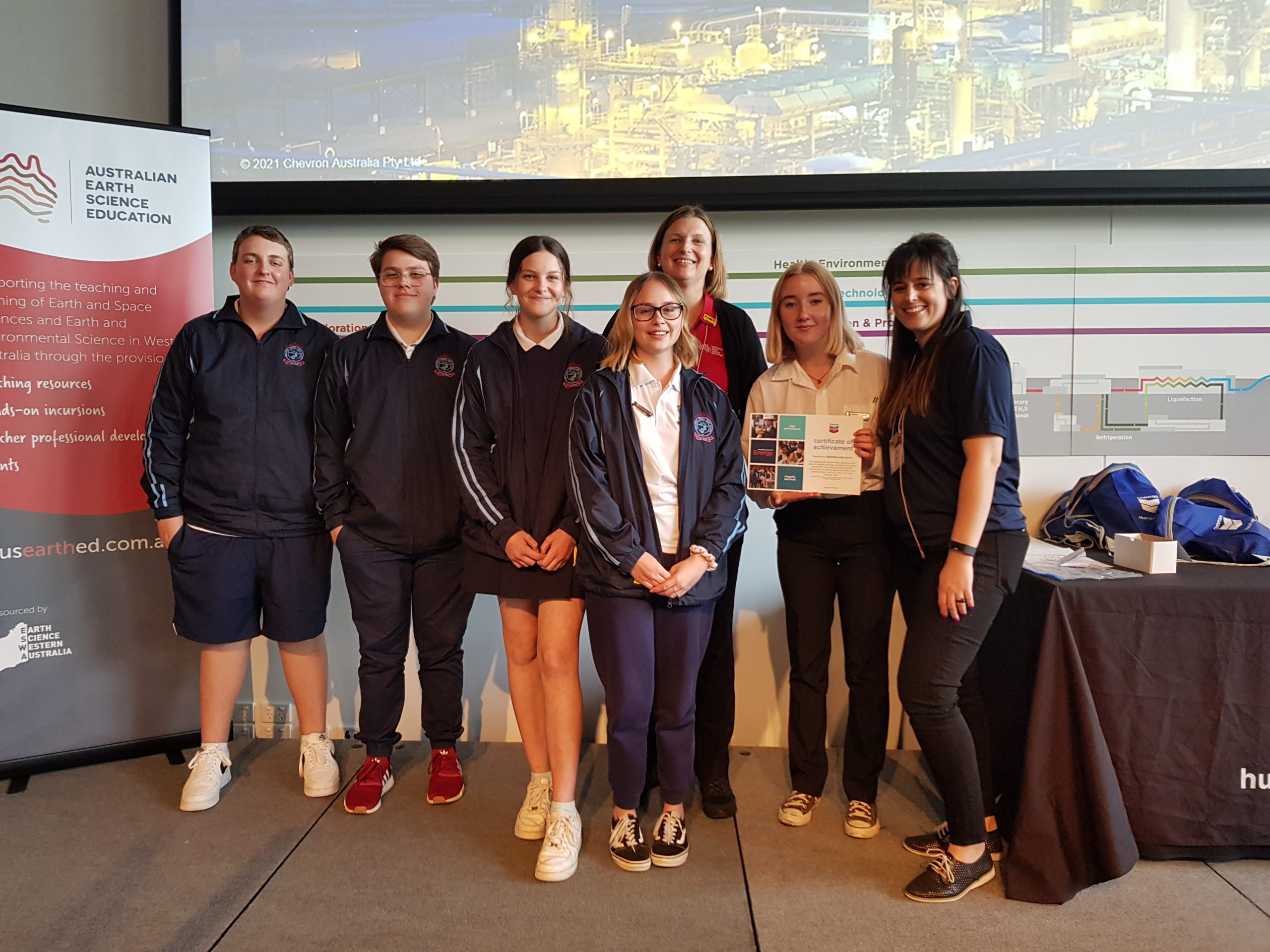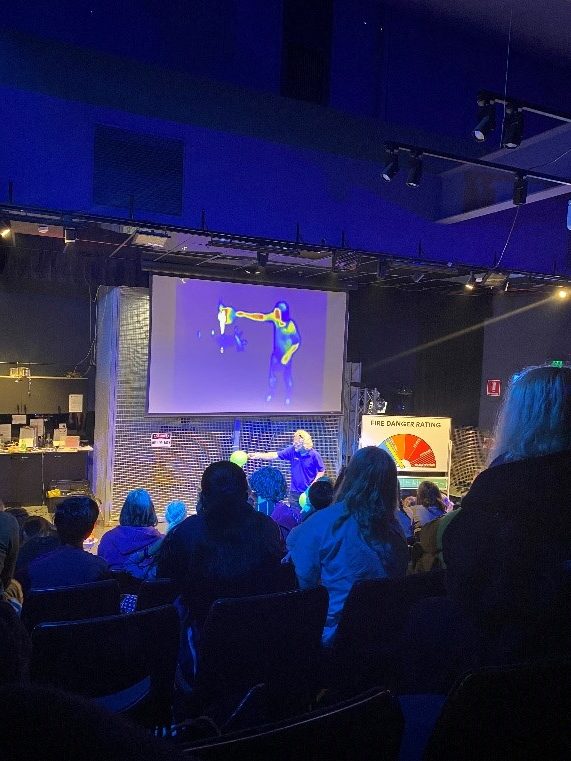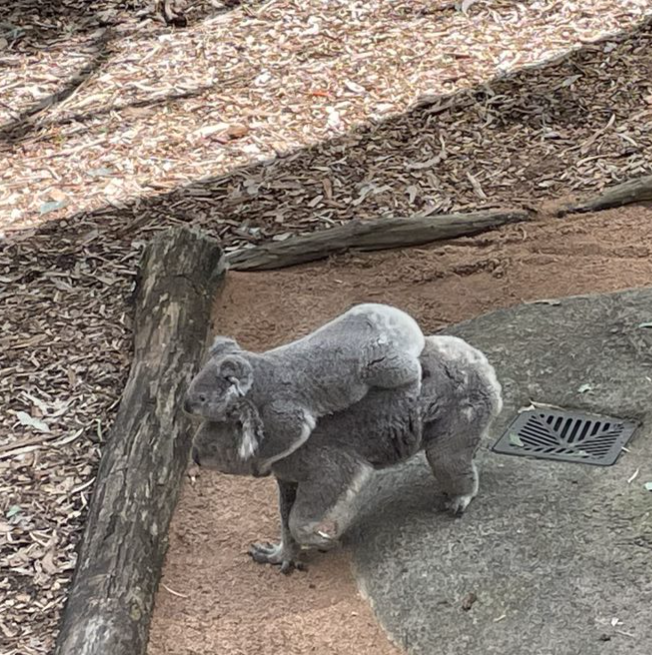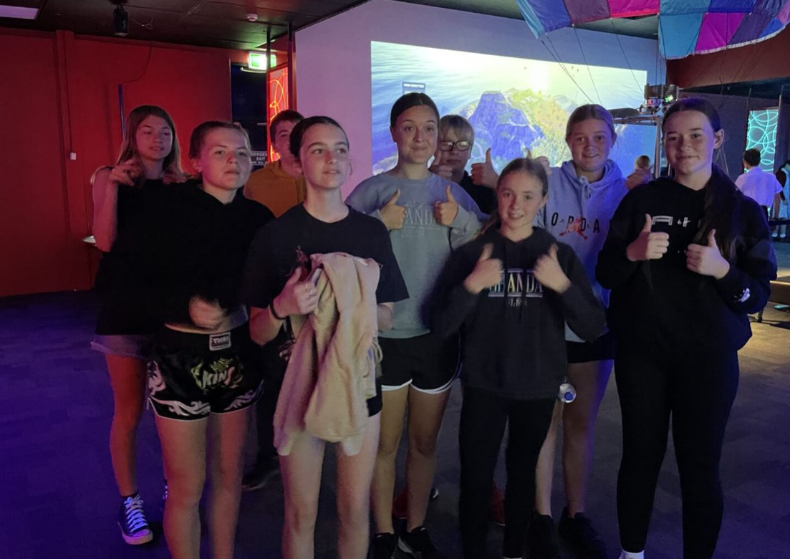 Year 8/9 AEP Camp - Fremantle
Year 8/9 AEP Camp Fremantle
On Wednesday, 27th October, 58 energetic and excited Year 8 and 9 students along with Mrs Durup, Ms Joy, Mr Crock and Ms Greene and Ms Satherley set off for Fremantle for the long awaited Fremantle camp, which was cancelled last year due to Covid. Once we arrived at the Fremantle Prison Youth Hostel, which was to be our home for the next 3 days, we met up with Mr Garnaut who had coffees waiting on our arrival.  After dropping off our bags, we set off to the Fremantle Maritime Museum, where we learnt all about Western Australia's maritime history.  As part of our Martitime experience we went to the Skydreaming Show which took us on a surreal journey in an airtight dome to look to the stars and take a breathtaking journey through science and Aboriginal culture. It fused live action with cutting edge technology and astrophysics. It follows as two children go on a magical odyssey through time and space, exploring the mysteries of the Universe and the ancient stories of the Yamaji people of the Murchison region.
We then headed back to the Youth Hostel to be allocated our rooms and enjoy lunch. We then had to pop next door to the historic Fremantle Prison for the first of our tours for the day. We first went on the Convict Tour where we learnt about the history of Fremantle Prison from its construction in the 1850s until the end of the convict era in 1886. We found out why almost 10,000 men were transported from Great Britain and Ireland, how they built their own prison and helped shape the future of Western Australia. We then went on the True Crime tour, where we learnt the real life stories of some of the Prison's most notorious inmates and found out how their crimes gripped the community. From bushrangers, thieves and murderers, to serial killers, bank robbers and escape artists, we learned the fascinating stories of the many characters who made the prison population over the 140 year history.
After a short rest back at the hostel, the students made the trek down to Fremantle Harbour for a traditional Fremantle fish and chip dinner at the famous Ciccerellos, a Fremantle icon. We were treated to our private room upstairs in the restaurant where we got a birds eye view of the harbour. After dinner we set promptly for Fremantle Prison again for the legendary Torchlight Tour. After several ghost sightings and people jumping out and rattling chains, it is a wonder anyone got any sleep that evening. So after 20,000 steps and counting we all wearily eeked ourselves to our dorms where phones were surrendered and everyone fell promptly to sleep.
On Tuesday morning, 58 tired and sore students woke to Mrs Durup and Ms Joy's dulcit tones reminding them not so quietly that they needed to be up, changed, have had breakfast and a clean dorm before their phones would be released. I have never seen students move so swiftly! We then all made our way to Fremantle Train station where to caught the train the city and then due to the amazing navigation skills of Ms Satherley managed to catch a ferry to the zoo, which was pretty empty so we had an amazing river tour of Perth on our own boat! Once at the zoo we split up into groups and explored all that the zoo had to offer. The highlight for me was the koala enclosure where the usually shy animals seemed intent on putting on a show. We also got to see the zoo's newest addition, a baby giraffe named Zahara. After a tour of the zoo we took part in a show called the 'Dangerous Games' where students explored threatening processes and their effects on Western Australia's native species through an interactive game where they are the decision makers. After a long day of exploring we returned back to the Youth Hostel where we treated with a tremendous BBQ.  There was so much food that Mr Crock and the students donated the leftover food to the local homeless shelter.
On our final day, we spent the morning packing up before we had breakfast and took a bus to our final visit of the trip, Scitech where we met up with Mrs Tregonning who was going to accompany us for the day. We started off by engaging in an escape room challenge. It was quickly established that Mrs Durup was not an asset in the cryptic challenge department. We then went to view the Perfect Firestorm event, culminating in the Planetarium show 'Capturing the Cosmos', which was the highlight of the day. Although, being laid back in a seat to look up did have many catching out those who had promptly fallen asleep! After a great day at Scitech we took our bus back to earth in Pinjarra. I would like to thank Mr Crock, Ms Joy, Mr Garnaut, Ms Satherley, Ms Greene and Ms Tregonning for their support on this amazing camp and look forward to doing it again next year, but with a little more sleep.
Linda Durup, AEP Coordinator
Pinjarra Football Academy - South West Camp
On Tuesday morning, 78 energetic PFA students (19 females, 59 males) departed PSHS for their annual South West camp. First stop was Eaton Community College where all of our Year 8 boys and half the Year 9 boys played in a footy match, going down by only two goals. Next stop was camp, located on Geographe Bay between Busselton and Dunsborough where our dorms were situated just a footy kick away from the beachfront. Day one's afternoon runsheet included activity rotations. This included a bike ride, beach activity, a water session, fitness and an oval game. We followed this up with dinner down at the Busselton foreshore with an amazing sunset.
Day two and off to Margaret River for surfing, downhill mountain bike riding and bush walking. We set off in year groups for each of these activities, with two hour sessions where the kids got to experience some of the South West's best outdoor playground. Finishing an activity filled, warm day with an evening walk along the famous Busselton Jetty into some entertaining array of sports.
Last day of camp saw the remaining Year 9 boys and all our Year 10 boys playing in another football match at Eaton CC. All students demonstrated outstanding behaviour during camp and we are super proud of the way they carried themselves both on and off the field.
Thanks to the students, parents and staff involved for their efforts in making this camp a success.
-Mr Beswick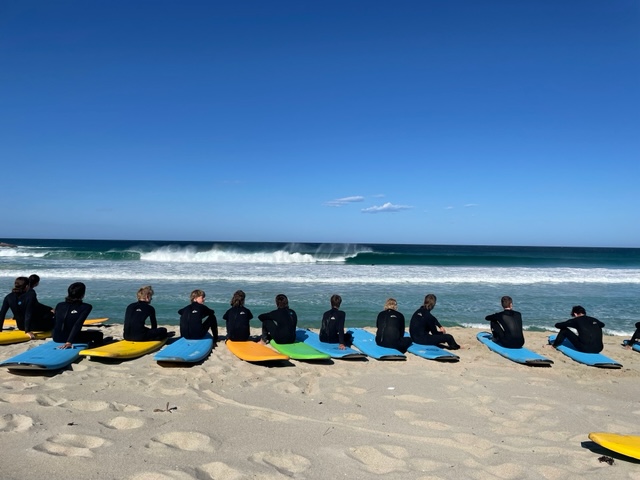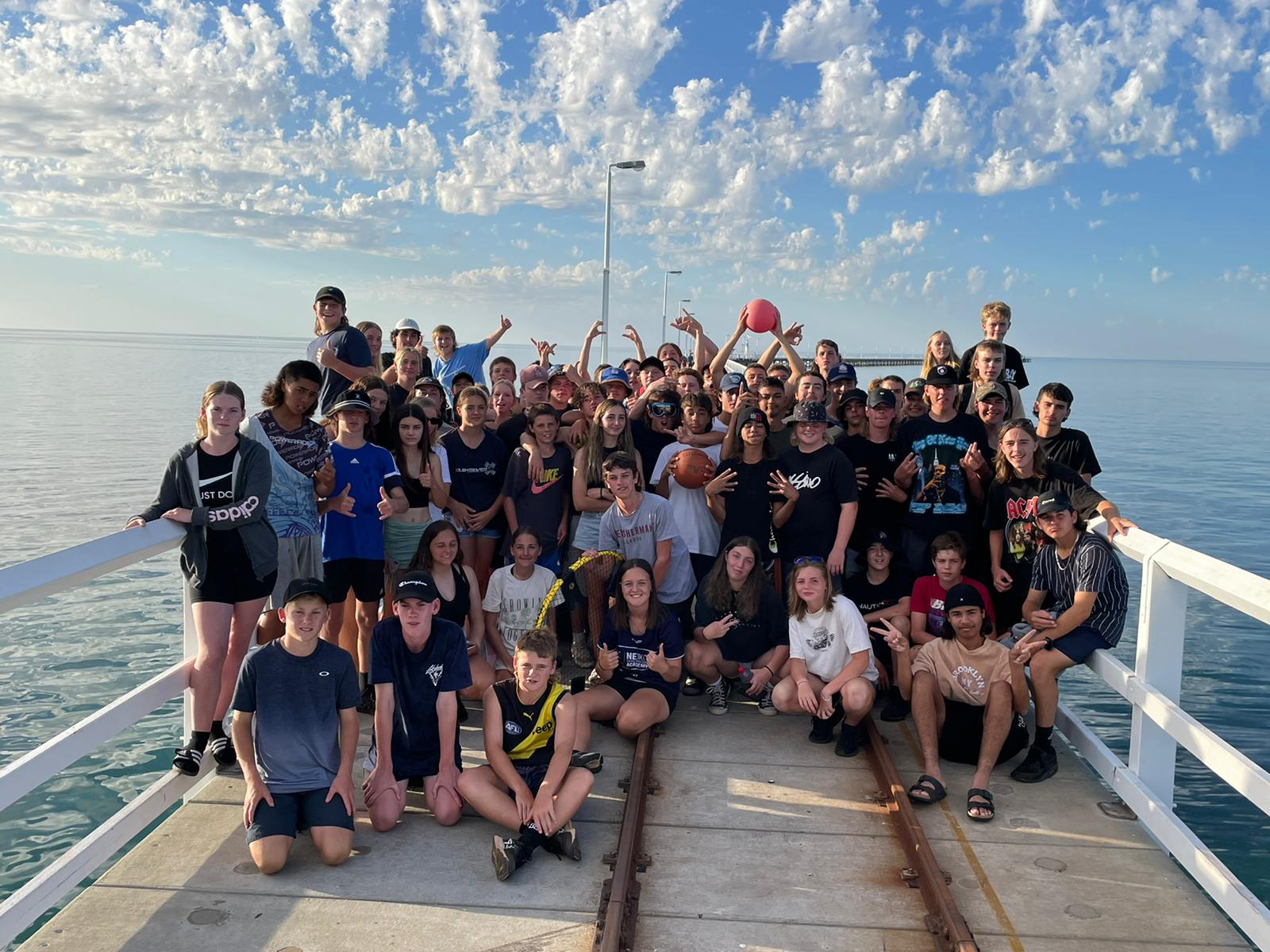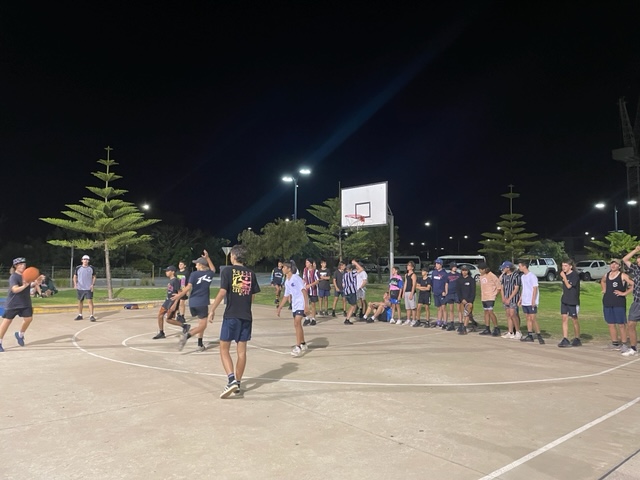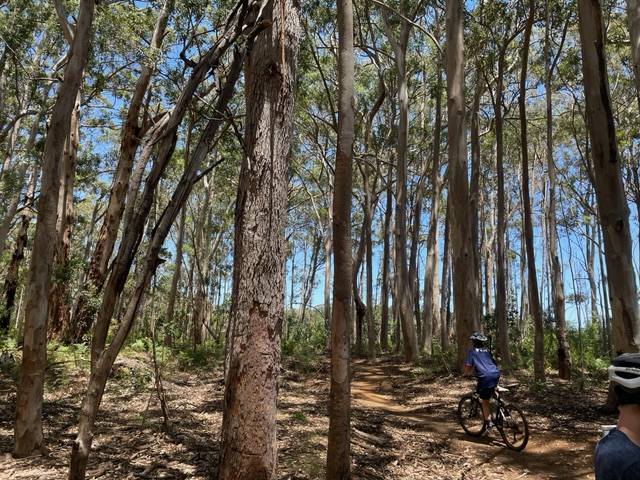 Murdoch Auspire Day
On Tuesday, 21st September, Mrs Durup and Ms Joy accompanied the Year 10AEP class to Murdoch University for the inaugural Murdoch Auspire Day where year 10s are invited to experience university life for the day.  As we arrived early, Billy found a piano outside the theatre which was free to anyone to play, he then started entertaining the crowds with a few classic hits, one being the class song, Bohemian Rhapsody. We started our morning with a briefing in the Kim Beazley lecture theatre, where we heard from Australian of the Year recipients who shared their journeys on how they got to where they are and what educational path they took.  There was then a QA and section where students could elicit further information from our esteemed guest speakers.  At the end of the session, students were provided with a bag full of Murdoch merchandise and a $20 food voucher for lunch in the Cafeteria. The highlight of the pack were the Murdoch beanies which were quite the fashion accessories on the day.
The students then raced off to spend their $20 vouchers, having fun lounging on the bean bags on the University lawn.  They all seemed quite at home on campus! After lunch we split into two groups and explored the different faculties Murdoch had to offer, including Veterinary Science, Engineering, Teaching and Sports Science.  After a fun day at campus we all headed back home to Pinjarra.
Linda Durup, AEP Coordinator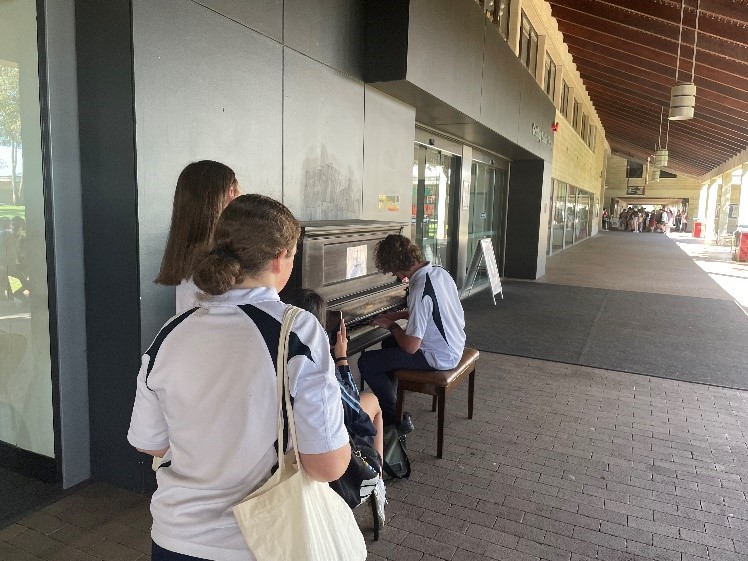 9/10 Netball Summer Carnival
On Friday 10th September, our Year 8 and 9 netball girls were in form demonstrating a great display of netball skills and teamwork to take away a comfortable win. Thanks to Alisha for umpiring the match.
Some of our Year 11 and 12 Country Week squad got on court on Wednesday 13th October. Whilst we didn't get a win, the girls had great fun and an opportunity to play in some positions they wouldn't usually play. Thanks to our year 9s Kyah and Sofie for umpiring the match.
Information for 2022
Student Information for 2022 is now available on our website at https://www.pinjarrashs.wa.edu.au/information-for-2022/
The webpage contains important links and information regarding:
COVID Vaccination Requirements for 2022
Contributions and Charges
Booklists
The Secondary Assistance Scheme
Members Wanted - Pinjarra SHS P&C
The Pinjarra SHS P&C Committee is looking for more members to join their fun and friendly committee.  If you are interested in having a bigger input into your child's education, simply contact the school via phone or email.
The committee averages one short meeting a term, with little to no fundraising time involved (only what you are willing to volunteer for).
Parent and community involvment allows the school to obtain a better picture of the expectations and preferences of its broader school community and external stakeholders.
Make Your Mark and Become a Part of Our Future History
To celebrate our centenary year, we have personalised brick pavers and gold seating plaques available for purchase.
The pavers will be laid between the current school office building and the new Performing Arts / Gymnasium building in 2022.
The gold seating plaques will be attached to the rear of the retractable seating in the new Performing Arts building. Money raised from the sale of plaques will be contributed towards the cost of the building.
Forms are available below:
SmartRider Cards
All students are required to have a smartrider card. The initial card is free and will be automatically issued to new students.  The cards are now used as a library card as well as for signing in late or signing out early during the day for appointments etc.  Replacement cards must be ordered through the school library at a cost of $2.00. Further bus information can be found at: https://www.transperth.wa.gov.au/timetables/results?Bus
Uniforms - Available from SportsPower Pinjarra
Pinjarra SHS Centenary Merchandise
Pinjarra Senior High School Centenary merchandise is still available, however stocks are limited!
Tea towels, tote bags, and glass Keep Cups are $10 each, or all three items are available in a bundle for $25.
Our centenary merchandise is available from our front office.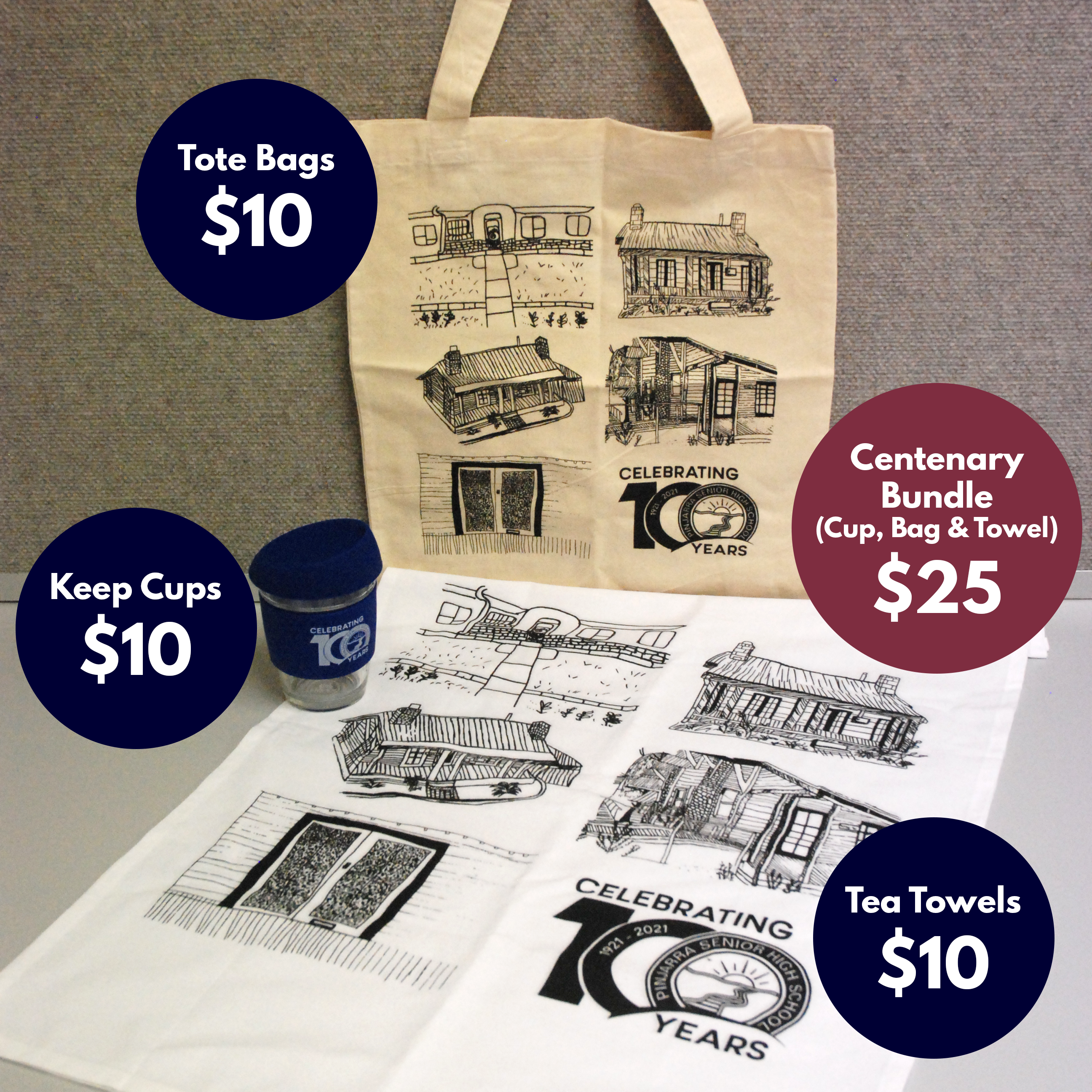 Chappo's Column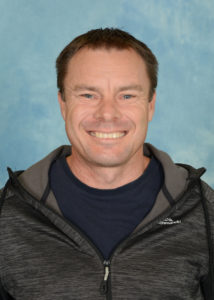 What a great finish to a full year! After much prayer we were so relieved when pastoral care demands decreased this semester allowing us both to get more involved in proactive programs and mentoring of students. The Year 12 Ball was a night to remember, where even Summer, our school dog looked amazing, and we got to help out with things like AEP camp, basketball and athletics carnivals, Safe Teens relationship sessions and the Health Expo.
It was great to take over coordination of the Year 6 Activity Day and Orientation Days again and we are hopeful most Year 6 students have now made some new friends, become more familiar with the high school layout and grown in their enthusiasm levels for the big move to high school next year!
It was so good to hear students returning from the Ningaloo and Kalbarri Leavers events (drug and alcohol free events run by SU) raving about the experience and to quote one student "It was the best thing I've ever done!". Hopefully more Year 12s catch on in future years!! We've felt very privileged supporting so many staff, students and families who have struggled this year and we want to thank all of you who have supported us, from food donations to hardware donated by PEACH (ALCOA employees), fundraising support from Rotary and our amazing YouthCARE committee, and staff helping out with our programs. We hope you all have a safe and happy Christmas, full of time with loved ones, great joy and new hope,
Justin Hill & Jackie Greene
Pinjarra SHS Chaplains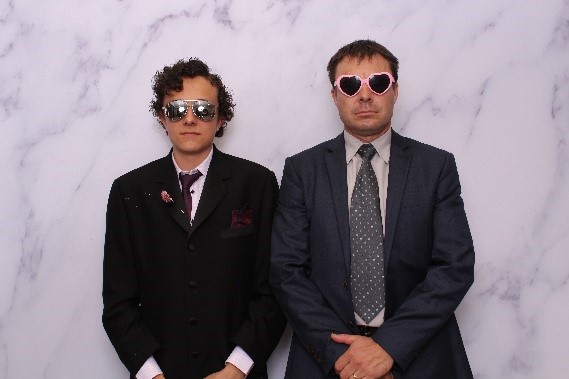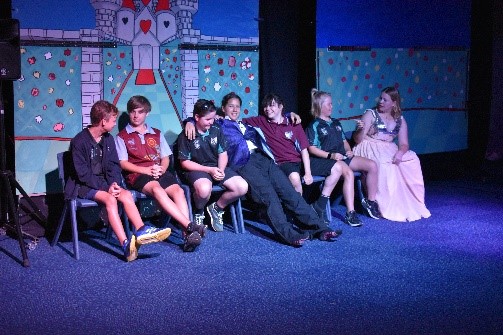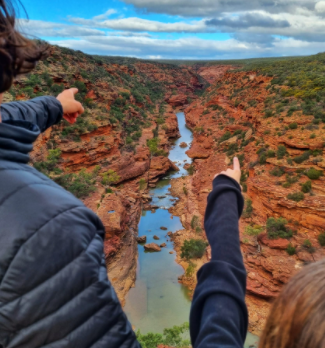 Community News, Events & Promotions
Click on the flyers below to view.
Traffic Wardens Needed!
WA Police is reporting a shortage of Traffic Wardens in the local area, and is currently looking to recruit.
To become a Traffic Warden, applicants require access to email, a full driving licence with access to a vehicle, and the ability to work 10 shifts per week.  The shifts will be an hour in the morning and an hour in the afternoon.
If you are interested in becoming a Traffic Warden, please call 6274 8731 regarding any queries or if you would like an application pack.
Translate This Page
Past Articles